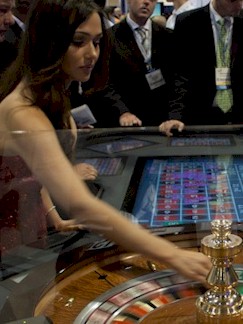 Casinos know roulette is being beaten. Most of their staff only vaguely know how players win, but don't need to know anyway. Casino staff only need to check for consistent winners, then take action once they are found. The type of action they take against players that beat roulette depends on what they learn about the player's behaviour. For example, if the player is constantly winning by placing late bets just before the ball lands, then the dealer will call no more bets earlier. This preventative behaviour is called a "counter-measure". There are actually numerous viable methods that beat roulette, and they all rely on the player using them discretely. Because if the player is detected, no casino will tolerate consistent winner one way or another. You can still earn a six-figure income each year and avoid detection, and in fact many players do this.
The top ways to beat roulette:
1. Roulette Computers: These are electronic devices that measure the ball and wheel speed to predict the winning number. They are legal in around half of the casinos, but you can still get banned for using them because casinos don't like consistent winners, and can ban you for any reason. Although the reality is they don't ban you. Instead, they just making winning more difficult if they detect you. So the devices are hidden under your clothes and applied discretely. Millions are being won and they are causing a serious problem for some casinos. Many casinos now hire consultants to help them detect computer users, although professional teams still find it quite easy to avoid detection. See more details at www.roulette-computers.com. Also the below is a recording of a public demonstration where the computer wins on almost every spin:
2. Physics-based permutation systems: These are systems that don't use electronics at the table, so they are legal everywhere. They use the same kind of physics as roulette computers, but in a much more sophisticated way that enables you to bet before the ball is released. They are extremely sophisticated and require correctly designed software that produce discrete betting charts that tell you when and where to bet. See www.roulettephysics.com for more details.
3. Visual ballistics: This technique involves visually observing the wheel and ball speed to estimate where the ball will land. This is nowhere near as difficult as you might think, if you use an appropriate method. There are in fact many effective types of visual ballistics, but few are practical enough. You don't use an electronic device, so they are legal everywhere. Although you can still be banned for using it. But keep in mind a casino will still make winning more difficult if you are detected, so it is critical to avoid detection. Although staying undetected is not difficult if you follow simple rules. The downside of visual ballistics is that although it's effective, it can only beat few modern wheels. But if you are prepared to search to find the right wheels, you can do very well with visual ballistics. See the free visual ballistics course at https://www.roulettephysics.com which is offered as a free trial, so you can see for yourself that roulette can be beaten.
4. Exploiting wheel defects: Roulette wheels are not physically perfect, and the imperfections leads to certain numbers appearing more than others. This is called wheel bias. Modern casinos now have automated software that tells them if a bias exists on their wheel, so these types of techniques are used less frequently by professional players. However, while the software used by casinos is insufficient, there still exists reasonable opportunities for professional players to exploit roulette wheel bias. Such techniques are provided free at https://www.roulettephysics.com/roulette-wheel-bias/
Systems That DON'T Work:
The vast majority of roulette systems don't work, and are mostly based on the same ineffective approaches. The most common is increasing bet size after losses, otherwise known as the Martingale. Such bets are simply independent bets of different sizes. There is no connection between spins in this way. The best explanation of what systems do and don't work is at this site that explains how to win at roulette.
A great roulette tips page is at https://www.roulettephysics.com/best-roulette-tips/ which explains simple advice for both beginners and professionals who play roulette.
Recommended Resources:
Roulette tips from a professional: tips that actually do help you beat roulette.
Types of roulette bets and odds: The basics of what to expect with most systems.
Roulette edge and odds table: Learn the facts about why the casino usually wins.
Roulette strategy for online casinos: Playing online s different to real casinos.
Best roulette strategies: Compare the best roulette strategies that work.
Roulette game for testing: Play roulette online for free, and test your strategies.
Complete page about roulette: A very complete page for people new to roulette.
Hidden truth about the wheel: What you need to know about winning, and the relevance of the betting table.
To get the best free roulette systems that really work, see this course. It's the best 100% free information for winning roulette you'll find. It's written by professionals who earn a living from roulette.